Resources for those impacted by Club Q shooting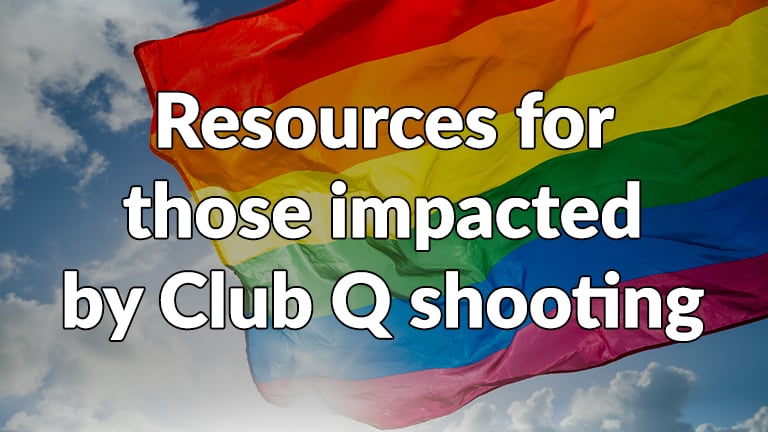 Update on Funerals for Victims of the
Club Q Shooting in Colorado Springs
On behalf of the victims of the Club Q shooting, the media liaisons for each family would like to share the following initial information regarding memorial services for each victim.
This is subject to change and more information will be released when it's known.
Daniel Aston:
The Aston family is currently planning memorial services and more details will be released soon.
Kelly Loving:
The family is currently planning a memorial service in Batesville, Mississippi, a short distance away from where Kelly grew up in Memphis, Tennessee. It will be open to the public and the family requests that attendees share only positive and uplifting comments
Ashley Paugh:
The Paugh family is holding a small funeral in La Junta, Colorado. The event is only open to family, friends and local community members and will not be open to media or broadcast to the general public. We thank you in advance for your respect for their wishes to have a small, intimate memorial for Ashley.
Derrick Rump:
The Rump family will hold funeral services in Pennsylvania where Derrick grew up. They are working with the funeral home to have the services livestreamed on Zoom, and welcome public officials who would like to attend.
Raymond Green Vance:
The family is planning both public and private memorial and funeral services this week.
Raymond was a beloved son, grandson, nephew, cousin, brother, and friend. His family will forever grieve his absence, but they also wish to celebrate his incredible life.
Several opportunities to remember Raymond are available to the public; all events will be held at:
Swan Law Funeral Directors
501 N. Cascade Ave.
Colorado Springs, CO 80903
The public is invited to attend two viewings at the funeral home:
Thursday, December 1, from 4 – 8pm
Friday, December 2, from 4 – 8pm
The funeral services for Raymond Green Vance will be private; however on Saturday, December 3, at 4:30pm, the family invites the public to join them for a dove release followed by a candlelight vigil from 6 to 8 pm. Both of these events will be held in the outdoor garden area of Swan Law Funeral Directors.
CSPD Update (From a Press Release on 11/28/2022):
"Homicide Victims
The El Paso County Coroner's Office has completed the autopsies of the deceased victims. While the Coroner's office will determine the cause and manner of death, all of the deaths are being investigated as a homicide.
The Club Q victims are the 43rd through the 47th homicide investigations in the City of Colorado Springs in 2022. CSPD investigated 40 homicides this time last year.
Updated Numbers of Identified Victims
As of November 28, 2022, at 2:00 PM below are the numbers of victims (it does not include the suspect):
•           5 deceased community members.
•           17 community members who are injured because of a gunshot wound.
•           5 community members who were injured, but not because of a gunshot wound.
•           12 community members who were a victim with no visible injuries.
 We know more community members were present at Club Q during the shooting, who may be victims with no visible injuries. An example is a community member who ran out as the shooting occurred. We are asking anyone in the community who might have been a victim, has information about a potential victim, might have seen something, or has information about this incident, to contact the Federal Bureau of Investigation (FBI) by calling1-800-CALL-FBI (or 1-800-225-5324).  CLICK THIS LINK TO SUBMIT VIDEO TO THE FBI.
 Return of Property
CSPD completed the investigation at the scene of Club Q and released the building back to the owners on Friday, November 25th.
 Starting Tuesday, November 29th at 8am, CSPD will be returning personal property left at Club Q by patrons. This return of personal property to its owners will be done at the Resource Expo located at 3650 N. Nevada Avenue from 8am – 7pm. If a community member can't make it to the Resource Expo on Tuesday, they can contact CSPD at our non-emergency number of 719-444-7000 and a detective will call them back later this week."
Victims identified
The City of Colorado Springs and the Colorado Springs Police Department respect all of our community members, including our LGBTQIA+ community. Therefore police have identified the people who died by how they identified themselves and how their families have loved and identified them.
Kelly Loving (she/her)
Daniel Aston (he/him)
Derrick Rump (he/him)
Ashley Paugh (she/her)
Raymond Green Vance (he/him)
Statement from the family of Raymond Green Vance 
Statement from the family of Ashley Paugh 
Heroic actions
Police also identified two people whose heroic actions stopped the suspect and saved lives.
Vehicles to be released
The Colorado Springs Police Department will release vehicles that are parked in the parking lot. They will contact the registered owners. If the vehicles belong to one of the victims, the police department will work with victim advocates to return vehicles to the family. Other people who have vehicles in the parking lot can contact police using the non-emergency number 719-444-7000.
How to help the victims
Colorado Healing Fund provides a secure way for the community to donate to victims and their families. However, it should be noted that victims from past mass shootings spoke out about their negative experiences with the Colorado Healing Fund. As always, make sure you're donating to a legitimate source by doing research.
Other Events Happening in the Pikes Peak Region and Beyond:
| | | | | | | | |
| --- | --- | --- | --- | --- | --- | --- | --- |
| MOSAIC (UCCS) | Monday, November 28, 2022 | 4:30 – 7:00 PM | 4775 Centennial Blvd #150 | Colorado Springs | Vigil to honor those lost | tspence3@uccs.edu | |
| Denver Q Collaborative | Monday, November 28, 2022 | 6:00 – 8:00 PM | City Park Pavilion (2001 Colorado Blvd) | Denver | Vigil for LGBTQA+ community | denverqcollaborative@gmail.com | Warm drinks provided |
| Lulu's Downstairs | Tuesday, November 29, 2022 | 7:00 PM | Lulu's Downstairs | Manitou Springs | Rememberance, celebration, benefit. Speakers, poets, music. All welcome. | | |
| From R, to Q | Wednesday, November 30, 2022 | 6:00 PM | 107 E Laurel St | Fort Collins | Karaoke, Drag, Bingo, all proceeds, door, tips directly donated to Club Q | | |
Resources for victims and their families
Providers offering therapy for those impacted. This list is being updated regularly by providers
Red Cross 1-800-RedCross for mental and spiritual guidance
You can call 9-8-8 for immediate mental health help.
How the community can help
Colorado Healing Fund  provides a secure way to donate to victims of the Club Q tragedy.
Donate Blood. Vitalant is a local service where you can make appointments to donate blood.
Behavioral Health Resources
The Patterson Center for Resiliency is offering five free therapy sessions. To get started, they ask you to call 719-300-5735.

Willow Creek Wellness is also services for anyone impacted by the shooting.

Providers offering therapy for those impacted. This list is being updated regularly by providers
Colorado Crisis Services 1-844-493-8255, or text "TALK" to 38255 This hotline will connect you to a crisis counselor or trained professional. The staffer will assess risk and determine if a mobile response is necessary.

If a mobile response is necessary, the Mobile Response Team or Community Response Team will strive to make contact within one hour in Colorado Springs or two hours outside Colorado Springs.

Cedar Springs Hospital 719-633-4114 | www.cedarspringsbhs.com Cedar Springs offers 24/7 referrals and assessments by phone or online for individuals of all ages who suffer from psychiatric disorders, substance abuse or co-occuring conditions.
Diversus offers a 24/7 walk-in crisis center for all ages, regardless of ability to pay, for crisis services and counseling, as well as around the clock care for mental wellbeing.

115 S. Parkside Drive, Colorado Springs, CO 80910 Peak View Behavioral Health Assessment team: 719-355-1028 | Main line: 719-444-8484 | www.peakviewbh.com

Peak View offers complimentary assessments 24/7 for individuals of all ages seeking help and support for mental health and/or substance abuse.

7353 Sisters Grove, Colorado Springs, CO 80923