Dropkick Murphys To Live Stream St. Patrick's Day 2021…Still Locked Down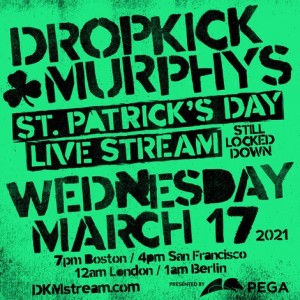 True to their annual tradition St. Patrick's Day, Dropkick Murphys will unite with music fans from around the globe with a virtual twist with "Dropkick Murphys St. Patrick's Day Stream 2021…Still Locked Down" on Wednesday, March 17th at 5p MT. The show will stream for free and simulcast worldwide via www.DKMstream.com.
Dropkick Murphys founder Ken Casey said, "Instead of charging for tickets, we're going to 'pass the virtual hat' so you can donate what you'd like to help support us in our efforts to keep paying our employees. When we did the first two free live streams for charity, our fans were super generous and we raised lots of money for good causes. But frankly, we've been out of work for over a year, so this one, we've gotta make about us. Of course, a portion will also go to charity, as always!"
Find more details HERE!