8/13/22: Lost 80's Live! ft A Flock of Seagulls, Wang Chung, The English Beat and more!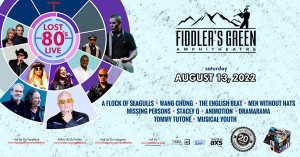 also with Men Without Hats, Missing Persons, Stacey Q, Animotion, Dramarama, Tommy Tutone, Musical Youth
Saturday, August 13, 2022
Fiddler's Green Amphitheatre
Presale : Thurs, Feb 17 10a-10p pw : DENVERLOST80S
On sale : Fri, Feb 18 10a
Get tickets here.